De Vere Grand Connaught Rooms
From

£62.00

per person

Group size

Min: 10 Max: 1000

Address

61-65 Great Queen Street
London
WC2B 5DA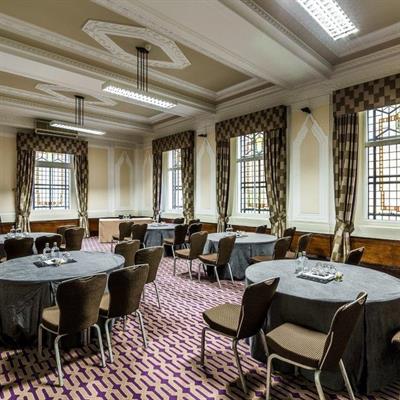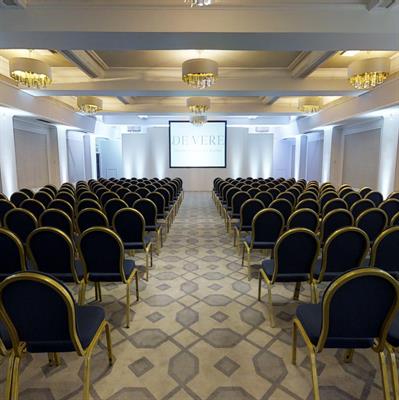 De Vere Grand Connaught Rooms offers 37 exceptional event spaces and is one of London's leading venues for conferences, meetings, training, exhibitions and product launches.
Examples of the room include the centrepiece of the venue which is The Grand Hall, a remarkable space with its beautiful ornate high ceilings, detailed wood-panelling and soaring chandeliers for up to 750 guests theatre-style, making it a popular choice for bookers looking for a large and impressive space in the capital.
The adjoining Balmoral Suite is a large open space and ideal for breakout sessions and drinks reception whilst across the hall; the Drawing Room features a circular bar along with an ornate ceiling and large windows looking out to London. Next door, the decorative theme continues in the Edinburgh Suite with its chandeliers and original features.
On the 2nd floor, the Cornwall Suite with its dramatic ceiling and feature lighting holds up to 300 guests theatre style whilst the adjoining Crown suite is flooded with original features including a domed ceiling for up to 120. There are several more rooms to choose from!
The De Vere Grand Connaught Rooms can be found between Covent Garden and Holborn tube stations in the West End of London.
#DidYouKnow Great Queen Street was described in the 18th century as 'the first regular street in London'. It is shown on the Agas map on 1560 as a path across Aldwych Close. James I adopted it as the route to his favourite residence, Theobalds, and by 1612 the track had become built up on either side. The first property to stand on the site of where the Grand Connaught Rooms stand today was the London mansion of John Sheffield, the Marquis of Normandy, sometime known as "Lord Allpride" due to his haughty and arrogant manner!
Delegate rates
Day Delegate Rate from:

Plenary meeting room hire based on minimum numbers, two course restaurant lunch or a working lunch, unlimited tea and coffee served with biscuits, water to keep you hydrated throughout the day serviced from our coffee stations, WIFI throughout the venue, stationary box, basic LCD projector and screen, flipchart and pens, delegate breakfast including pastries, yoghurt and granola pots (excluding our Grand Spaces)

£62.00 inc VAT
Room capacities
| Suite name | Theatre | Reception | Cabaret | Banqueting |
| --- | --- | --- | --- | --- |
| Grand Hall | 750 | 1000 | 400 | 540 |
| Balmoral | 200 | 500 | 120 | 150 |
| Presidents | 30 | - | 24 | 20 |
| Empire | 40 | 40 | 32 | 40 |
| Edinburgh | 300 | 400 | 200 | 250 |
| Drawing Room | - | 200 | - | - |
| Cambridge Room | 50 | 50 | 24 | 30 |
| Cornwall | 300 | 400 | 200 | 250 |
| Crown | 120 | 220 | 80 | 140 |
| Coronet | 50 | - | 32 | 30 |
| Oxford | 50 | 50 | 24 | 30 |
| Holborn | 50 | - | 32 | 30 |
| Ampthill | 100 | 100 | 48 | 60 |
| Cambria | 120 | 120 | 80 | 100 |
| Denbigh | 50 | 50 | 32 | 40 |
| Ulster | 80 | 60 | 48 | 60 |
| Durham | 50 | 50 | 40 | 40 |
| Derby | 50 | 50 | 40 | 40 |
| Dorset | 80 | 80 | 64 | 80 |
| Dorset | 80 | 80 | 64 | 80 |
| Covent Garden | 80 | - | 64 | - |
| Norfolk | 20 | - | 16 | - |
| Devon | 100 | 100 | 48 | 60 |
| Stafford | 100 | 100 | 48 | 60 |
| Essex | 80 | 70 | 48 | 60 |
Useful information
Address

De Vere Grand Connaught Rooms
61-65 Great Queen Street
London
WC2B 5DA