Hilton Brighton Metropole
From

£32.00

per person

Group size

Min: 2 Max: 3000

Address

Kings Road
Brighton
East Sussex
BN1 2FU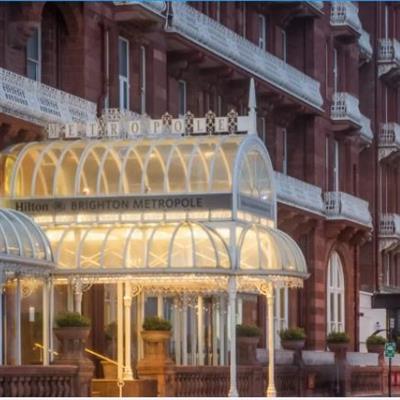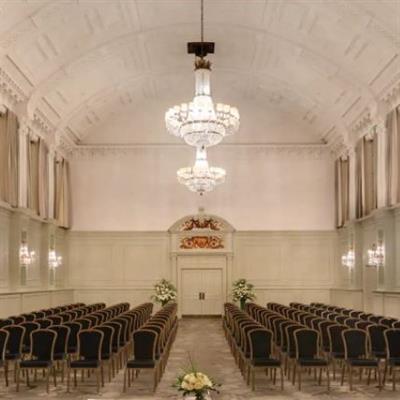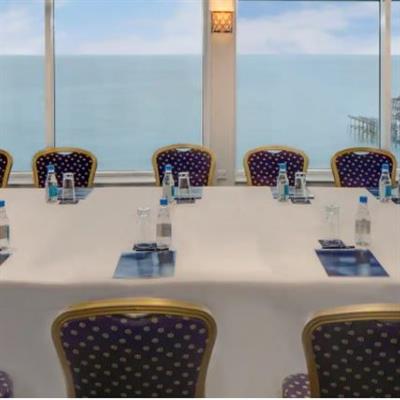 The Hilton Brighton Metropole hotel offers over 30 event spaces, including a flexible venue for 3,000 guests, sea-view function suites, and our converted 1918 chapel. It has meeting packages, PSAV tech support, cargo entrances, and creative breaks. There are 340 bedrooms.
Set on the vibrant Brighton seafront, The Hilton Brighton Metropole is next to The Brighton Centre, Brighton Palace Pier, Royal Pavilion, the boutiques and bars of The Lanes, and the British Airways i360 viewing tower are all within walking distance.
#DidYouKnow our hotel dates back to the 1890's and has its own converted chapel!
Delegate rates
Day Delegate Rate from:

Room hire, 2 x Tea, coffee & biscuits & lunch.

£32.00 + VAT

24hr Delegate Rate from:

Room hire, 2 x Tea, coffee & biscuits ,lunch, dinner & overnight accommodation based on singe occupancy,

£142.00 + VAT
Room capacities
| Suite name | Theatre | Reception | Cabaret | Banqueting |
| --- | --- | --- | --- | --- |
| Oxford | 1000 | 1000 | 650 | 800 |
| Oxford Gallery | - | 800 | - | 400 |
| Cambridge | 250 | 400 | 80 | 150 |
| Durham | 700 | 700 | 450 | 550 |
| Durham Gallery | 400 | 400 | 350 | 300 |
| Hall 4 | 250 | 400 | 80 | 150 |
| Hall 7 | - | 300 | - | - |
| Park Suites | - | 300 | - | - |
| Park Stanmer | 100 | 100 | 100 | 100 |
| Park Preston | 100 | 100 | 100 | 100 |
| Park Queens | 70 | 70 | 20 | 30 |
| Viscount | 220 | 800 | 300 | 600 |
| Clarence | 200 | 300 | 120 | 150 |
| Lancaster | 80 | 120 | 70 | 60 |
| Ambassador | 150 | 150 | 100 | 120 |
| Osborne | 70 | 70 | 40 | 40 |
| Sandringham | 100 | 100 | 40 | 50 |
| Churchill | 35 | 60 | 20 | 30 |
| Regency & Dukes Comb. | 450 | 800 | - | 300 |
| Dukes | 150 | 200 | 80 | 100 |
| Buckingham & Balmoral Comb. | 400 | 500 | 250 | 300 |
| Regency - Balmoral | 250 | 350 | 120 | 180 |
| Regency - Buckingham | 120 | 150 | 80 | 80 |
| Dukes - Edinburgh | 80 | 100 | 40 | 40 |
| Dukes - Gloucester | 35 | 60 | 20 | 20 |
| Chartwell | 70 | 60 | 60 | 60 |
| HM1 | 15 | 15 | - | 10 |
| HM2 | 15 | 15 | - | 10 |
| HM3 | 40 | 40 | - | 25 |
| HM4 | 12 | 15 | - | 20 |
| HM5 | 12 | 15 | - | 10 |
| HM6 | 15 | 15 | - | 10 |
| HM7 | 40 | 40 | - | 25 |
| HM8 | 12 | 15 | - | 10 |
| HM9 | 12 | 15 | - | 10 |
| Surrey 1 | 30 | 30 | - | 20 |
| Surrey 2 | 30 | 30 | - | 20 |
Useful information
Address

Hilton Brighton Metropole
Kings Road
Brighton
East Sussex
BN1 2FU